29 June 2016
One event, make it eventful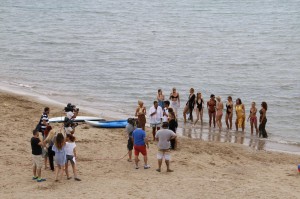 AKS Hotels have the experience, the knowledge, the professionalism, the reliability and the equipment to organize any event, from the simplest to the most complex one. AKS Conference Centre at the heart of Porto Heli, one of the most beautiful towns of Argolida, welcomes important Greek, European and global conferences every year, while the facilities of AKS Porto Heli Hotel and AKS Hinitsa Bay Hotel can be used for all kinds of events and festivities.
We are especially proud because AKS Hotels managed to complete one of the largest and most demanding productions in Greek television: for five consecutive days, the morning entertainment show of ANTENNA TV, To Proino, with Giorgos Liagkas and Faii Skorda, was broadcast live from the pool of AKS Hinitsa Bay, in front of the amazing beach of Hinitsa. Dozens of people from the hotel and ANTENNA TV worked together and tirelessly so that everything will work perfectly and the viewers can enjoy six mornings of pure fun, singing, news and partying.
Behind the cameras, the AKS Hotels staff made sure that the people of the show can have all the technical support they needed, while each request and problem was met immediately and effectively. Our experience in organizing events and conferences helped us keep a discreet presence, so that in front of the cameras only the beauty of the renovated AKS Hinitsa Bay can be seen, as well as that of the green mountain and the crystal clear sea.
One event, make it eventful, then. AKS Hotels can make sure that the organizing of events and conferences can be done without a hitch. For years now, they have been tested in difficult situations and have passed with flying colors, with the highlight being a show that belongs to the demanding world of Greek show business. To Proino enchanted the viewers once more and this time it managed it with the help of AKS Hotels.
So, if you're organizing a conference or an event, AKS Hotels are the right choice. They have proved it, after all, on live TV!