14 October 2015
Asklipieion in Epidaurus – The therapeutic center of Ancient Greece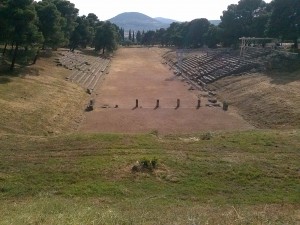 A few kilometers to the north of Porto Heli there is the archeological site of Asklipieion in Epidaurus, one of the most important and popular destinations for those who travel through Greece. The informed visitor would know that the ancient theater, with its wonderful and famous acoustics, is just part of the site, which had many more functions that weren't limited to the arts, but also involved sports, gods worship and, more importantly, the health of the human body.
The name alone should provide a hint to the visitor that it is a site mainly dedicated to Asclepius, the god of medicine in Ancient Greece. During those years the Asklipieion would accept pilgrims from all over Greece, who sought health and well-being in its baths, temples and sanctuaries. Also present were the worships of Apollo and Artemis.
The pilgrims would probably stay at Katagogio, the largest building of the Asklipieion that functioned as a hospice. It is a bit further away from the rest of the buildings of the complex, exactly because of its use.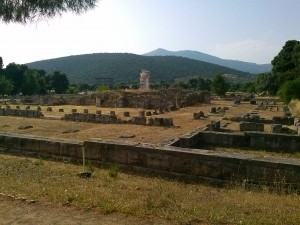 The most ancient and, perhaps, important structure is the so-called "Building E". It is the place of worship for Asclepius and dates back – at least the first phases of its construction – to the sixth century BC. In the later years the worship of Apollo was also established there, while the archeological investigation showed that there was a place in it for blood sacrifices (animals were slaughtered to gain favor with the gods). A plumbing system carried water inside the building in order to easily clean the space.
The site also hosts the Ceremonial Restaurant, whose various buildings saw different uses. The Propylo (entrance) became a Health Temple and the main building was probably a Gymnasium for the pilgrims to exercise, though latest research has shown that it was probably a restaurant for ceremonial meals. A conservatory was also built there, but much later.
The Stadium is especially impressive, the site were games were held. The visitor can easily discern the playing field and the stands of the stadium and get carried away to an era when ancient Greeks fought for the honor of their city and their gods.
It is a pity that the central temple, dedicated to Asclepius, is not standing in its place. But there are the remains of a smaller temple, dedicated to Artemis, that is combined with the baths of the site.
The theater might be an imposing presence and the reason most travelers visit the site, but its main function had always been therapeutic. It was, after all, the center that would accept those that were gravely ill, a point of reference for the whole of ancient Greece.