18 November 2015
Epidaurus – The ultimate cultural experience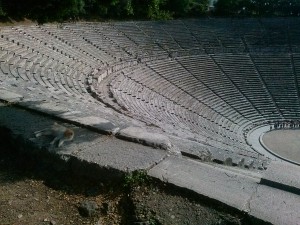 There are archeological sites shrouded in greater mysteries. There are archeological sites more majestic. There are archeological sites that have been photographed more. But there are no other archeological sites in Greece that can make the experience of visiting them resemble more the authentic experience of the ancient Greeks that used them.
If you ever come to Porto Heli on vacation or for a conference, then you will pass by Epidaurus, especially if you decide to come to this beautiful little town by car. Even if you don't pass by Epidaurus and the amazing villages of Palaia Epidaurus and Nea Epidaurus, still the distance from Porto Heli is short and we would suggest a quick trip there, if your schedule allows.
There are numerous reasons to visit Epidaurus. The ancient theater is one of the best maintained sites in Europe and it is indeed impressive to listen even to the whispers of those who are on stage, while you are standing on the top levels. Surrounded by forests, built on the slope of a mountain and next to a building complex that also was very significant for ancient Greeks, the Epidaurus theater is a necessary addition to your schedule.
The other buildings belong to the Asklipieion, dedicated to the god of medicine. It's a place that welcomed pilgrims from all over Greece, who came seeking relief from their health problems. Asklipieion is often overlooked by visitors or the latter don't even know that it is next to Epidaurus until after they arrive; however, its historical value may be greater than that of the theater, given its function.
Today, however, it's the theater that has a greater cultural value, since the visitors can attend performances there, usually ancient tragedies, but also concerts and other cultural events. The performances aren't all that frequent, since it is necessary to keep the grounds in a good condition, but if you get the chance to attend one, then you should be prepared for a magical evening that will carry you all the way to antiquity.
Even for actors, especially Greeks, taking part in a theatrical performance in Epidaurus is a dream come true, equivalent, all things considered, to playing in Broadway in New York and West End in London.
Epidaurus is an archeological site that must not be missed. Even if it's just for a visit or for a whole show, we definitely suggest that everyone who is at Porto Heli should make time to head there.
AKS Conference Centre Porto Heli