25 November 2015
Tiryns – On the paths of the ancients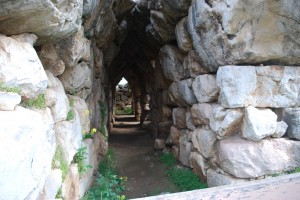 Tiryns is one of the most important archeological sites in Argolida, even though it is quite frequently overshadowed by Mycenae and Epidaurus that attract more visitors due to their historical value and their cultural significance. Tiryns, however, will satisfy everyone who wishes to make the trip, since they will not only see the layers of history imprinted on the ruins of a city that flourished for centuries, but also enjoy a breathtaking natural landscape that surrounds it.
If you're at Porto Heli for a conference or on vacation, then you will have to head north, through the mountains of Argolida. Tiryns can be found between Nafplion and Argos, closer to the Argolic plains, which the visitor of the archeological site can admire from above. The site also overlooks the Argolic gulf with its crystal clear waters. It is not at all difficult to imagine the reasons Tiryns was built and flourished in that location.
Besides, it is rather possible that Tiryns is even mentioned in the Homeric epics, though it is very difficult to be certain due to the changes in place names. Pausanias, however, who visited it during the second century AD found it already in ruins. The area was always inhabited until the modern years, but it never acquired significance until Heinrich Schliemann revealed its older glory by bringing to light the acropolis and the cyclopean walls.
The archeologists have discovered evidence that show that the city was already inhabited in the neolithic period, but it flourished during the Mycenaean era, until its days of glory reached an end when Argos, the strongest power in the area, destroyed it. The formerly impressive palace can be found at Lower Acropolis, while at Upper Acropolis you will find the eastern gate.
The hill on which Tiryns is built is surrounded by walls that can be as thick as eight meters, and that's where they get their name: cyclopean. They are a very difficult structure to build, along with the waterworks of the city.
Just like Mycenae, Tiryns hosts some beehive tombs that are located, as is natural, not in the Acropolis, but a bit farther away.
Tiryns may not be your first choice for a trip to an archeological site in Argolida. But if you have that itch to get to know the history of a place, then Tiryns can definitely satisfy you.
AKS Conference Centre  Peloponnese