21 October 2015
The wines of Argolida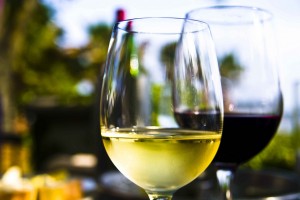 It is a common secret that Mediterranean Europe produces some of the best wines in the world. The valleys of northern Italy, the plains of France, the sea beaten coasts of Portugal produce wine that connoisseurs all over the world enjoy. Greece also shares this reputation of producing good wine, but it is less developed, so it is not a leap of logic to claim that the whole of the Peloponnese, and Argolida itself, with its fertile grounds, its excellent climate and its agricultural economy are at the forefront of wine production in the country.
The most famous wines in the Peloponnese can probably be found in Nemea, which belongs to Corinth, and it's no accident that whatever is produced there is of Protected Designation of Origin. Argolida is of course not left behind, especially since part of the vineyards in Argolida, those that are mainly found to the northwest of Argos, belong to the so called viticultural zone of Nemea and so the wines produced there can also take advantage of the Protected Designation of Origin.
The variety that stands out the most and is, of course, the trademark of the area is Aghiorgitiko, a red grape, rich in taste, that is the basis of many of the wines produced in Nemea and Argolida. One of the reasons is that the grape grows in the varied elevations of the region and so can give the local wine different qualities.
Of course, Aghiorgitiko is not the only grape that thrives in this particular region of the Peloponnese. The wine producers of Argolida have made sure to cultivate varieties suitable to the climate that also give delicious wines. In the vineyards, you can also find Asyrtiko, Roditis, Cabernet, Chardonnay, Merlot and others. Furthermore, if you head south, towards our beloved Porto Heli, you'll see where Rokaniaris is cultivated by producers in Kranidi, the main town of the area. Rokaniaris gives a white wine, that goes ideally together with the rich in fish Mediterranean diet, while its aromas will excite even the most demanding wine specialists.
If you're ever at Porto Heli and Argolida for a conference or vacations, you'll have the opportunity to taste different varieties of red and white wine produced in the area or even take a small wine-tasting tour that will bring you close to some of the most important wine producers in Greece. Perhaps the enjoyment of a beautiful place is enhanced if it's accompanied by the enjoyment of the palate, like the one only good wine, wine from Argolida, can offer.